Support
Check our FAQ before Contact Us
GBP Check: Pro Tip - Keyboard Shortcuts
GBP Check has keyboard shortcuts and it can make your job even easier:
Inside of Automatic Health Check screen, select a location and press:
| | |
| --- | --- |
| S | Open the search bar |
| R | Run the Health Check Analysis |
| E | Expand all checklist items |
| Enter | If you have just one business on your search result, you can press enter to select it. |
Inside of Category Search page, press:
| | |
| --- | --- |
| S | To focus your pointer on search field |
| Enter | To run the search for category |
GBP Check: Is it compatible with mobile ?
Yes, we make a big effort to allow GBP Check to be compatible with most of mobile devices of the market. It is recommended to use with Google Chrome Browser on mobile phones and tablets.
General: Cover photo on Google Maps / Search does not match the GBP Check cover image
Google reserve itself the rights to choose the best photo that represent your business. Usually Google tends to choose store front, cashier / checkout images. Google does not recommend custom / editet photos as cover photo.
GBP Check: Is it possible to edit business data ?
GBP Check was developed to be a read only software with the purpose of analyse GBP locations. GBP Check does not change any information of your locations.
GBP Check: How can I update my business location list ?
If you have a new location on your account or in any of your linked accounts you can open the Smart Bar and click the first item Refresh Business List.
Agency Mode: What is it and how does it work ?
Agency Mode is the most complete version of GBP Check, recomended for Marketing Agencies and Professionals that provide Google My Business Consulting and Optimization.
GBP Check: GBP Roles needed for automatic health check
GBP Check requires the user on Google My Business to have at least the following roles  to run an automatic check:
Linked Accounts: How to add a linked account ?
To add an additional Google / gmail account, click on the drop down arrow next to your photo on top right of the screen, then inside of settings you can click on 'Link Account' and add your additional account. By adding the additional account you will be able to see and manage all GMB listings from this account together with all GMB listings with your main account. 
After add your linked account, if it don't update the list imediately, you can click on 'Update Business List' inside of the businesses menu on Automatic Health Check screen and it will show all or your businesses together.
Manual Health Check: What is it and how does it work ?
Manual health check analysis includes items that cannot be automatically verified automatically via API but are still important to the location. We then put all of these items togheter into the manual checklist, where you can select the itens that apply.
Automatic Health Check: Media exist in GBP but GBP Check is yellow or red
Media sent by customers may be automatically categorized by Google and for this reason they are not considered by GBP Check. If in the Automatic Health Check this item is yellow or red, try to attach images by the Google Business Profile platform referring to the category (Indoor, Outdoor, At Work, Team, etc…) in order to complete this item.
Category search tool: How does it work ?
Category searcher its a quick tool that helps you to find additional / correct category for the location you are working with based on a custom text search.
Business Share: How does it work ?
To share business insights with your customer, go to Automatic Health Check menu, select the business you want to share from the smart bar, then run a health check and click in Actions, menu, then share, activating the option "Share business insights"
My Business Insights: Why is it delayed ?
Google delays the metrics for about 2 to 5 days to provide the data access via API.
My Business Insights: How many months do I have access ?
Using the Free 1x business plan, you will have access to the last 6 months of insights. Using the basic or business plan you will have access to the to the last 18 months of insights, and we will keep the insights available since the begining forever while you will be using GBP Check as a customer.
Review Cards: What is it and how does it work ?
Reviews Card are custom digital cards, that can be generated automatically to make easy the process of invite customers to review your location. You can either print send them via whatsapp / other chat tools and the customer will have easy access with a button to review your business, and print a paper that you can show next your cash desk, so people can read the QR code and get easy access directly to your Google Reviews screen. Otherwise the customer have to open Google Maps or Google Search, type your business, click on your business, scroll the screen, find the reviews option, then click the review to write the review. 
Reviews card makes this job a way easier. 
Review Cards: How to get the business Place ID with Place ID Finder
1. Open the Place Id Finder Tool
2. Follow the procedure below: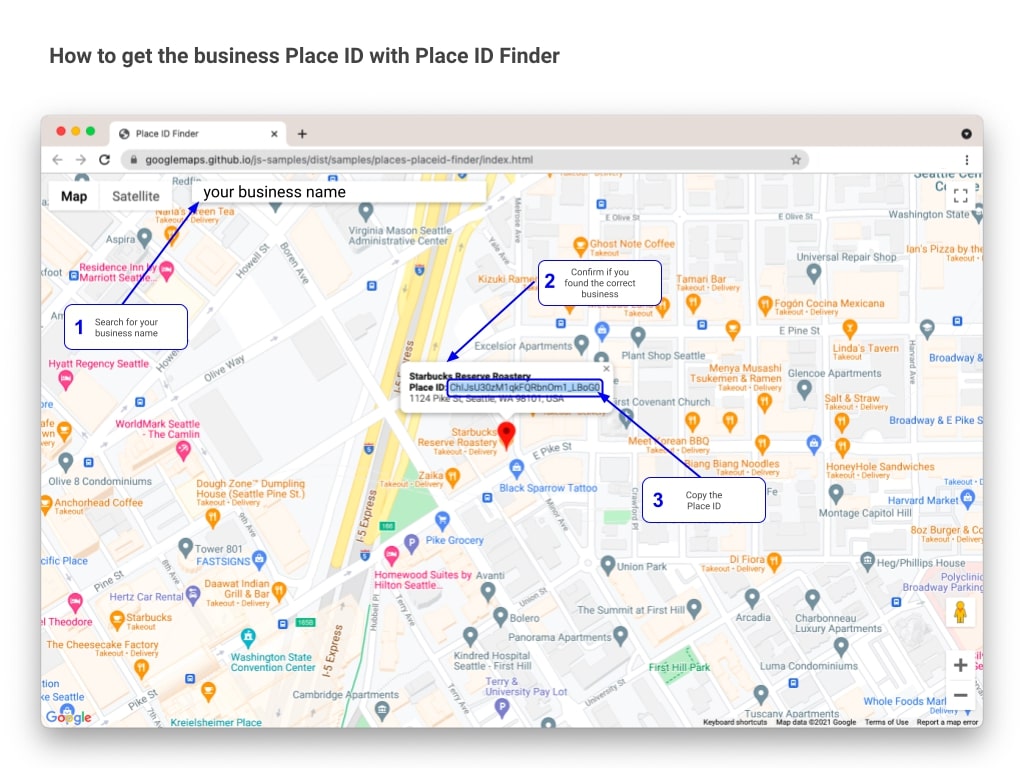 Linked Accounts: Is it possible to login with a linked account ?
Linked account's business can only be accessed inside the main account session. To login into GBP Check service with a linked account you have to request access to this account too.
Health Check Evolution: What is it and how does it work ?
Health Check Evolution register every change on your business health check (Automatic and Manual), this way you can track your business improvement with the overall score evolution.
Health Check Evolution: Not showing changes
Health Check Evolution only shows a checklist when there is a change in the score, a change in an item or if it is the first checklist of the day (no matter if there are no changes).